The bike lobby is a hot topic these days on the interwebs. Ever since Wall Street Journal editorial board member Dorothy Rabinowitz's rant against the "all powerful bike lobby" (see my original post here), people haven't stopped talking about the political activities of cyclists – especially the WSJ.
Byron Tau and Caitlin Emma, reporters for Politico, posted an article on the subject yesterday and offered a realistic interpretation of the actual influence of said group:
All-powerful the bike lobby is not. Cars — and the infrastructure needed to accommodate them — receive an overwhelming percentage of federal, state and local transportation dollars. But a scrappy band of bicycle manufacturers, smart-growth advocates and cycling nonprofits is increasingly fighting — and winning — battles at all levels of government.
This trend will likely continue as such groups expand their collective action efforts and develop a lobbying / electoral apparatus. One sign that this is indeed happening: the NY Times reports that StreetsPAC, a coalition of "advocates for cycling and pedestrian safety," just offered its first formal endorsements of city council candidates. Out here, the San Francisco Bike Coalition flexed its muscles in the 2012 election for the  Board of Supervisors and continues to engage local officials to make the city's roads more bike friendly.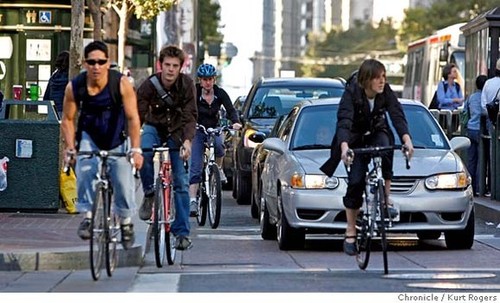 Still, despite growing every day, it's hard to disagree with Politico's Tau and Emma: the bike lobby is, undeniably, far from all powerful. As it emerges from its infancy, though, that could change. Personally, I hope so. That would level the playing field a bit in the debate over the future of urban transportation policy.