If you haven't already read George Packer's article in The New Yorker on the politics of the tech industry and its impact on SF, the Bay Area, and the beltway, you really should.
In general, he is somewhat critical of what he sees as the tech industry's overconfidence in its positive impact on the world as well as its self-serving approach to public policy. Here's one particularly compelling except in which Packer quotes Josh Cohen, one of the professors in my department at Stanford:
"There is this complete horseshit attitude, this ridiculous attitude out here, that if it's new and different it must be really good, and there must be some new way of solving problems that avoids the old limitations, the roadblocks. And with a soupçon of 'We're smarter than everybody else.' It's total nonsense."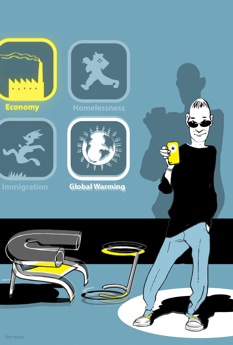 Still, it is more descriptive than anything and Packer offers a well-rounded take on the industry's growing political engagement. His interviews with entrepreneurs, political scientists, and public officials are reveal a lot about these evolving relationships. One omission I wish he did address though: the degree to which these tech leaders are cultivating a healthy relationship with Nancy Pelosi, who, in addition to serving as the most powerful Democrat in the House, represents SF in Congress.
Anyways, it is a very well done article and definitely worth reading. Check it out for yourself here.